News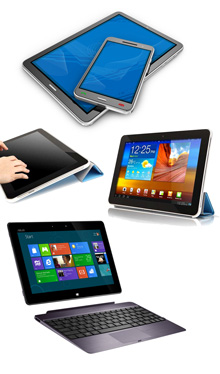 So you want to buy a Tablet?
Buying a tablet can be quite a daunting prospect these days. Up until recently the iPad, which started the revolution, and Android have had the market cornered but finally Windows has entered the race. Tablets are great for portability and convenience provided you get the one that is right for you. If you want nothing more then a recreational device to play music, games or surf the net the iPad and android devices may be just right. However, if you need a more business orientated device with full office capabilities, functionality and compatibility with your PC, then a windows tablet may be best for you.
Tablets come in many shapes and sizes, with or without detachable keyboards. Some models may be considered as replacements for your laptop or desktop but most lack the speed and power of a true PC or Mac. At TechYES we can put together a quote and recommendations to suit your needs to get you engaged with your new device without the confusion. We can help!